Since the Club was founded in 1909 there have been 50 Presidents. Martin Harbottle became our 50th President in 2020 & will also be our President in 2021. Eileen Mills became our first Lady President in 2004/05.
Of our current members the following have held the honour of being President at Epsom Bowling Club.
Roy Ward 1992/95, Clive Banderet 1996/97, George Sperring 2000/01, Eileen Mills 2004/05, Cyril Newman 2006/07, Tony Jackman 2008/09, Derek Hoffmann 2012/14, Anne Hoffmann 2018/19 & Martin Harbottle 2020/21.
Roy Ward also had the honour of being Surrey County Bowling Association President in 1999 & Martin Harbottle will be the Surrey President in 2022.
We have a famous president - Lord Rosebery, but our very first President was a Frank Harry Trower. The following advert has been found re what Frank did. He owned this business in Epsom.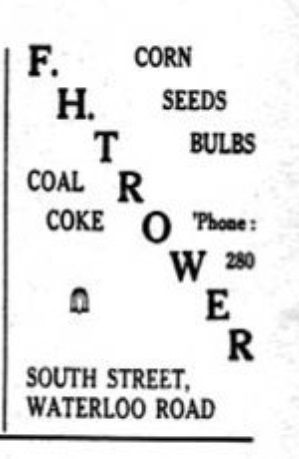 A few years ago the Club was contacted by Mr Trower's great grandson - Steve Bacon (from Cumbria)
The 3 Pictures below are of Frank taken around 1909. (Many thanks to Steve for permission to use these photographs)
Click on the photos for larger versions.