Pat Buckley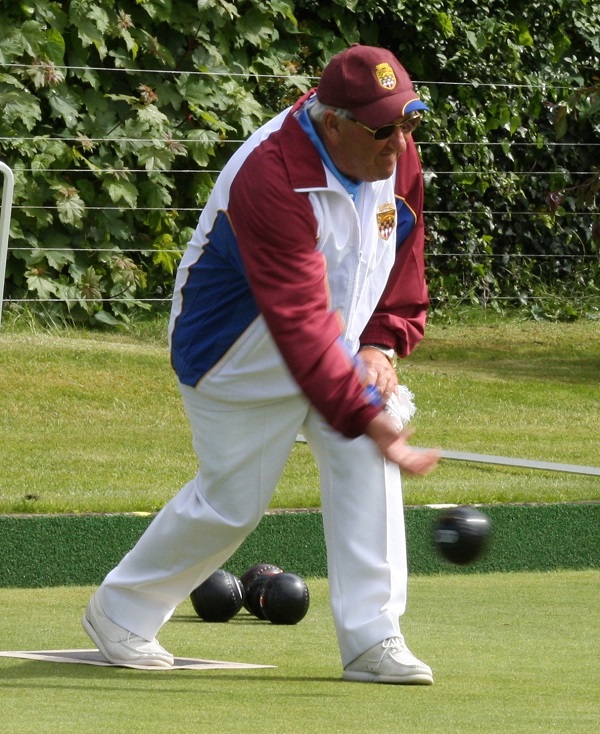 Pat joined Epsom Bowling Club from Wallington B.C. in 2004. He was a very valued member of of EBC & played in many representative matches & Club games. As you will see below Pat made a huge contribution to Epsom Bowling Club. He also came very often to support fellow bowlers in matches. Pat always enjoyed a drink or two and was great company.
County Badge
Pat qualified for his Surrey County Badge in June 2010 reaching the Semi Final of the Unbadged Singles. He was presented with his County Badge on 17th May 2011 playing against Warwickshire at Welford Upon Avon B.C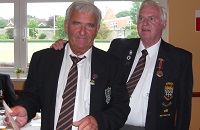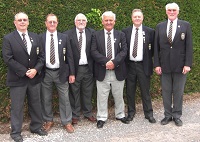 Pat receiving his Badge Les Owen, David Sowdon, Peter Miller, Pat,
Martin Harbottle & George Sperrring at the same match
Outside successes
Pat was a member of the Epsom team which won the Area Final of the Top Four Competition 2006 with Ted Ray, Peter Miller & Martin Harbottle.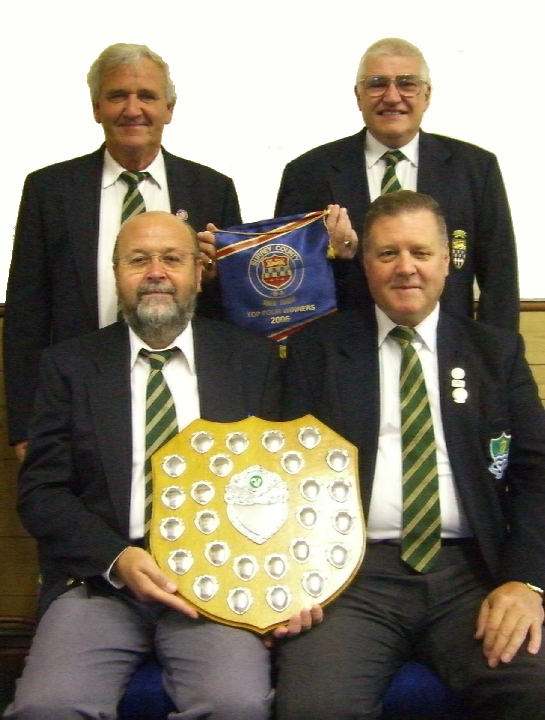 He won the September Open played at Epsom Bowling Club in 2010 with Geoff Purrott, Cyril Newman & Peter Miller.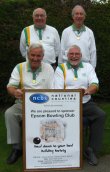 Pat was a member of the team that won the Top 10 in 2008 against Warlingham Park.
He was a member of the team that lost in the Final of the Yonwin Cup in 2010, 2011, 2012 & 2016 & he was a member of the team that lost in the Final of the Top 10 in 2006
Pat played his 100th match in the East Surrey League against Wallington on 27th July 2013 & was a member of the squad that won the League in 2015.
Outside Appearances
East Surrey League - 133, Yonwin Cup - 27, Top 10 - 23, Top 11 - 17, Times Herald/Past Times - 18, B E Two Fours - 8, Tony Allcock - 7, L&SCBA Shield - 5, Vilamoura - 3, Jubilee Cup - 10.
Below is a summary of his achievements in Club Competitions at Epsom Bowling Club.
Won Handicap Singles 2008 Triples 2005 Fours 2005/2008 Mixed Pairs 2009 Miller's Triples 2011/2013
Runner Up Handicap Singles 2005/2014 Fours 2010/2011/2013 Triples 2011 Pairs 2007 Two Wood 2010
Sadly Pat sadly passed away on the 10th October 2020.
Pat will be sadly missed by those of us who knew him, played with & against him. He is a huge loss to Epsom Bowling Club.
RIP Pat